What's At The Show
Important Note! For everyone's safety (animals included), we ask that the public please leave their pets at home
The Mom, Pop & Tots Fair is a two-day show loaded with family fun and excitement! New and expectant parents can find products and services geared to their needs, as well as information galore! It's a wonderful opportunity for family time, with a large variety of activities to participate in. Whether you have a bouncing baby, tremendous toddler, or keen kid, there's a little something for everyone from a Baby Crawl to a Chalk Drawing Floor, a petting zoo to many hands on activity centres. The Fair focuses on families with at least one child 6 years of age and under.
VROOM VROOM ZOOM WITH TOOPY & BINOO!
You've been patiently waiting for this announcement, and we are so pumped to be able to deliver the news…. We are thrilled to announce our guest entertainer for the 2014 Mom, Pop & Tots Fair will be… TOOPY & BINOO, brought to you by Edmonton Catholic Schools Early Learning!
Toopy & Binoo form an inseparable duo who enthusiastically live life to the fullest. Brimming with imagination, they exist in a whimsical world where one incredible situation after another occurs, to the delight of television audiences.
Join Toopy & Binoo live on stage as they take us on an adventure! They are sure to need a little bit of help from the audience to use their imaginations and have fun! Sit back and enjoy or get up and dance to the wonderful songs and music of Toopy & Binoo.
There are a lot of excited moms, pops & tots out there who are eager to see Toopy & Binoo live on stage, and such, we have 3 presentations per day. Please plan ahead and ensure you show up early to grab a seat, as seating and standing room is on a first come, first serve basis.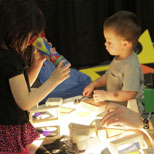 Show Feature
LEARNING EARLY & HAVING FUN
Edmonton Catholic Schools is excited to bring a real classroom to the Fair that will allow you and your child to experience first-hand the rich opportunities offered in our pre-K/K classroom programs. Their staff will be available to share information, answer questions that you might have and provide opportunities for your child to participate in interactive centres. Their Early Learning Mobile Unit (the EMU) will also be parked and available for you and your family to enjoy.
With Early Learning Programs for Children 3 to 5 years of age offered at many sites across the city, Edmonton Catholic Schools welcomes children and their families to learn, play, and grow in faith based, inclusive environments. To support the development and growth of your child, all Early Learning Programs are staffed with Certified Teachers and supported by Multidisciplinary Teams consisting of Educational Consultants, Speech Language Pathologists, Occupational Therapists, Physical Therapists, Adapted Physical Education Specialists, Emotional Behavioral Specialists, Psychologists, Family School Liaison Workers, Fine Art Specialists, and Early Learning Facilitators.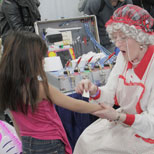 Show Feature
CHRISTMAS IN THE NEW YEAR WITH 630 CHED SANTAS ANONYMOUS
We all deserve to be treated over the holidays, but giving isn't just reserved for December. 630 CHED Santas Anonymous believes everyone is entitled to experience the magic of Christmas. They fundraise tirelessly throughout the year to ensure less fortunate children won't miss out on the joy of receiving a special gift at Christmas time.
Bring the kids to their booth to meet Mrs. Claus, decorate cookies and get their faces painted. Parents can bid on the silent auction and learn about opportunities to experience the spirit of giving throughout the year.
This is the second-consecutive year that the team at 630 CHED Santas Anonymous will be the Mom, Pop & Tots Fair's 'Charity of Choice.' Following a successful appearance in 2013 raising more than $3,000, they will again be providing fun, interactive activities for the family. Come support the fantastic work that they do year round to make sure many children experience a special Christmas day.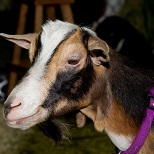 Show Feature
PETTING ZOO & PONY RIDES**
Feel like making some four-legged friends? Stop by Thistle Hill Farm Petting Zoo & Pony Rides booth and meet with the animals. Pat and chat with goats, ducks, bunnies, and more! Encourage your kids' inner cowgirl or boy by sending them on a pony ride* with one of Thistle Hill's four-legged steeds!
Pony Rides - $5 per ride
*Prices are subject to change without notice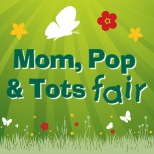 A SAFE CHILD IS A HAPPY CHILD
Staff from Alberta Health Services will be at the Fair to talk with parents about children's safety. Information will be provided on issues such home safety, poison prevention, and child safety seats. Demonstrations of how to install child safety seats will also be done throughout the Fair right at their booth. Stop by with your questions – the staff from Alberta Health Services is looking forward to meeting you!
CREATIVE DANCE
In Early Learning at Edmonton Catholic Schools, they know that movement is essential to learning. Movement awakens and activates many of our cognitive capacities. Come move creatively with your child where you'll not only have fun, but you will also be physically and mentally strengthening your bodies! This session is multi-sensory, developmentally appropriate, creative, expressive and of course FUN! Join Rachel Avery, Dance Specialist and Ali Jones Jonzon, Adapted Physical Education Specialist as they present Creative Dance on the Main Stage.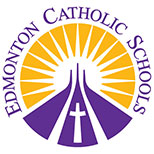 Live on Stage
Friday at 11:00am and 2:30pm

BANG ON THE DRUMS ALL DAY
Come join one of Edmonton Catholic Schools Early Learning Music Specialist/Occupational Therapist, Paul Bromley, on a journey to discover how sound and music is produced. Children will have the opportunity to interact with innovative musical instruments, and experiment with the relationships of pitch, length, and design. Catch Paul on the Main Stage!
READY FOR A HOPPING GOOD TIME?
Come join Fergus the Superfrog on an adventure as he contends for the hand of the beautiful Princess Vi! Children will be able to participate and play along in this quest as Princess Vi searches the kingdom for a suitor. Her search takes her high and low, and she will need your help to overcome the obstacles that stand between her and the handsome Superfrog! Will there be a fairytale ending? Come find out on our Main Stage!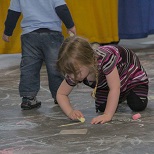 Show Feature
CHALK ART
What kid doesn't love a good doodle? Or getting their hands messy?? Pop by and let your kids unleash their inner artists by getting down and dirty on the interactive Chalk Floor. Stand by the sidelines or engage in some friendly parental artistic rivalry. Whose interpretive chalk art will be the best laid down that day?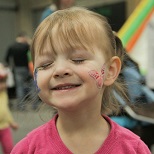 Show Feature
LIONS, TIGERS, AND BEARS….OH MY!?!
No, it's not a jungle out there—we just have brilliant face painters!
No family event is ever complete without a little face art**. Let your children embody their inner animal/superhero/whatever by choosing from a divine array of designs. Prepare to have your little one accompany you at the show as a jungle animal, fairy, flower, or superhero!
Face Painting - $3-12
Sparkle Tattoo - $5
*Prices are subject to change without notice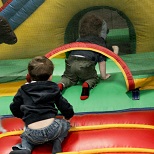 Show Feature
BOUNCY CASTLE**
Need a time-out from the busy Fair floor? The Party King Inc. offers our Moms and Dads some downtime by taking the party into the Bouncy Castle! Turn your kids loose to burn off some show excitement by jumping and sliding to their heart's content while you grown-ups rest your feet, admire their moves and meditate on how to channel some of that energy!
Bounce House - $3 per timed entry
*Prices are subject to change without notice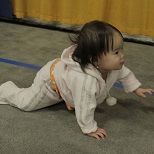 Show Feature
READY, SET…CRAWL!!
All parents know how toddlers are capable of ninja speed and stealth. You think your kid has rollers for hands and knees at home? Let your child shine at this year's baby crawl races at the Mom, Pop, & Tot Fair! Bribe, lure, and entice your baby to be the first over the finish line while the crowd cheers them on! Oh, and did we mention there are prizes for all participants?
Baby Crawl runs quarter past the hour every hour starting at 10:15am - be sure to sign up when you arrive if you'd like to partake. Sign up sheet is at the Baby Crawl, just to the right of the entrance doors.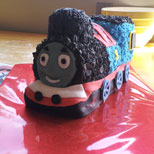 Cakes by Victoria
Our belts are fitting a little tighter here at the office after celebrating an office birthday with cupcakes from Cakes by Victoria! Chocolate cupcakes with an Italian meringue frosting were the staff favourite but, there were many delicious varieties and flavours. Cakes by Victoria can create the perfect custom cupcake or cake for any celebration in or out of the office. In fact, Cakes by Victoria creates beautiful cakes for children's parties, as seen in the pictures below. Contact Cakes by Victoria at 780-953-4883 or by email, vvandiemen@gmail.com, to order your unique and tasty cake – your eyes (and taste buds!) will not be disappointed, we promise!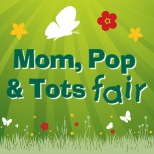 Thank You!
Thank you to all of the moms, pops, tots, exhibitors and sponsors that made the 2013 Mom, Pop & Tots Fair such a wonderful weekend!
We are excited to see you all again at the next
Mom, Pop & Tots Fair
March 7th and 8th 2014
Edmonton EXPO Centre

Details on the 2014 Fair will be released as they become available. Please check back for updates on our feature presenters, special guests, and exciting activities for the kids!
As always, you can expect to find information, resources, and family-oriented activities to keep the whole family entertained. The many stage presentations will keep kids on their feet and parents engaged!
*all promotions subject to change without notice
**nominal fee will apply