What's At The Show
Important Note! For everyone's safety (animals included), we ask that the public please leave their pets at home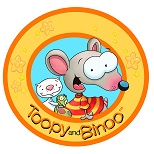 VROOM VROOM ZOOM WITH TOOPY & BINOO!
You've been patiently waiting for this announcement, and we are so pumped to be able to deliver the news…. We are thrilled to announce our guest entertainer for the 2015 Mom, Pop & Tots Fair will be… TOOPY & BINOO, brought to you by Edmonton Catholic Schools Early Learning!
Toopy & Binoo form an inseparable duo who enthusiastically live life to the fullest. Brimming with imagination, they exist in a whimsical world where one incredible situation after another occurs, to the delight of television audiences.
Join Toopy & Binoo live on stage as they take us on an adventure! They are sure to need a little bit of help from the audience to use their imaginations and have fun! Sit back and enjoy or get up and dance to the wonderful songs and music of Toopy & Binoo. Times for their stage shows will be released shortly.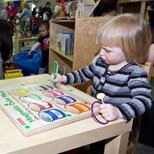 EDMONTON CATHOLIC SCHOOLS EARLY LEARNING
Edmonton Catholic Schools is excited to bring a variety of interactive centers to the Fair! Experience firsthand the rich opportunities for children offered in our classroom programs at the 2015 Mom, Pop, &Tots Fair.
With programs for children from 3 to 5 years of age, Edmonton Catholic Schools strives to ease the transition into the school community. All Catholic elementary schools offer Kindergarten classes with Pre-Kindergarten and Pre-School Outreach Programs offered at selected sites. All Early Learning Programs are staffed with certified teachers and a classroom facilitators to ensure your child receives the attention they need. Programs are also supported by a multi-disciplinary team, which includes an Early Learning Consultant, Speech-Language Pathologist, Occupational Therapist, Physical Therapist, Adapted Physical Education Specialist, Behavioural Specialist, Psychologist, and Family School Liaison Services.
Edmonton Catholic Schools Early Learning Programs welcome children and their families to learn, play and grow in faith based, inclusive pre-kindergarten and kindergarten classes. While the kids dray, play & explore the Early Learning Mobile Unit at the fair, bring any questions and talk with the staff that will be on hand to happily share information about the ECS programming.
Check out www.ecsd.net for more information on all the programs Edmonton Catholic Schools Early Learning provide.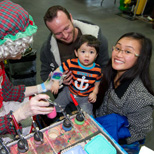 CHRISTMAS IN THE NEW YEAR WITH 630 CHED SANTAS ANONYMOUS
We all deserve to be treated over the holidays, but giving isn't just reserved for December. 630 CHED Santas Anonymous believes everyone is entitled to experience the magic of Christmas. They fundraise tirelessly throughout the year to ensure less fortunate children won't miss out on the joy of receiving a special gift at Christmas time.
Bring the kids to their booth to meet Mrs. Claus, decorate cookies and get their faces painted. Parents can learn about opportunities to experience the spirit of giving throughout the year.
This is the third-consecutive year that the team at 630 CHED Santas Anonymous will be the Mom, Pop & Tots Fair's 'Charity of Choice.' Following a successful appearance in 2014 raising more than $3,000, they will again be providing fun, interactive activities for the family. Come support the fantastic work that they do year round to make sure many children experience a special Christmas day.
PETTING ZOO & PONY RIDES
Feel like making some four-legged friends? Stop by Thistle Hill Farm Petting Zoo & Pony Rides booth and meet with the animals. Pat and chat with goats, ducks, bunnies, and more! Encourage your kids' inner cowgirl or boy by sending them on a pony ride* with one of Thistle Hill's four-legged steeds!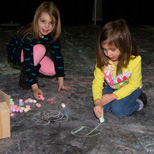 CHALK ART
What kid doesn't love a good doodle? Or getting their hands messy?? Pop by and let your kids unleash their inner artists by getting down and dirty on the interactive Chalk Floor. Stand by the sidelines or engage in some friendly parental artistic rivalry. Whose interpretive chalk art will be the best laid down that day?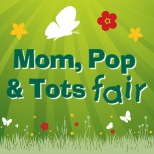 LIONS, TIGERS, AND BEARS….OH MY!?!
No, it's not a jungle out there—we just have brilliant face painters!
No family event is ever complete without a little face art. Let your children embody their inner animal/superhero/whatever by choosing from a divine array of designs. Prepare to have your little one accompany you at the show as a jungle animal, fairy, flower, or superhero!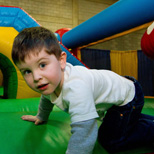 BOUNCY CASTLE
Need a time-out from the busy Fair floor? The Party King Inc. offers our Moms and Dads some downtime by taking the party into the Bouncy Castle! Turn your kids loose to burn off some show excitement by jumping and sliding to their heart's content while you grown-ups rest your feet, admire their moves and meditate on how to channel some of that energy!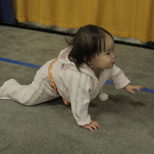 READY, SET…CRAWL!!
All parents know how toddlers are capable of ninja speed and stealth. You think your kid has rollers for hands and knees at home? Let your child shine at this year's baby crawl races at the Mom, Pop, & Tot Fair! Bribe, lure, and entice your baby to be the first over the finish line while the crowd cheers them on! Oh, and did we mention there are prizes for all participants?
*all promotions subject to change without notice
**nominal fee will apply