What's At The Show
Important Note! For everyone's safety (animals included), we ask that the public please leave their pets at home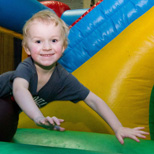 Thank You!
Thank you to all of the sponsors, visitors, and exhibitors that made the 2014 Mom, Pop. & Tots Fair such an awesome weekend!
We are excited to see you all again at the next
Mom, Pop & Tots Fair
March 6th & 7th 2015
Edmonton EXPO Centre, Hall A

Details on the Show will be released as they become available. Please check back for updates on our features, specials and vendors.
The Mom, Pop & Tots Fair is a two-day show loaded with family fun and excitement! New and expectant parents can find products and services geared to their needs, as well as information galore! It's a wonderful opportunity for family time, with a large variety of activities to participate in. Whether you have a bouncing baby, tremendous toddler, or keen kid, there's a little something for everyone from a Baby Crawl to a Chalk Drawing Floor to a Petting Zoo and many hands-on activity centres. The Fair focuses on families with at least one child 6 years of age and under.
Here are some highlights from the 2014 Show—stay tuned for updates on 2015 as they become available!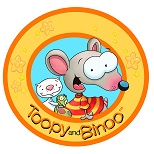 VROOM VROOM ZOOM WITH TOOPY & BINOO!
We had a full "house" for our highly anticipated headliners at this year's Mom, Pop & Tots Fair! Thanks to Edmonton Catholic Schools Early Learning for presenting Toopy & Binoo!! There were many excited little ones looking forward to seeing the imaginative duo, and they weren't disappointed. With three performances per day, there were lots of opportunities for everyone dance and sing along. A great time was had by all!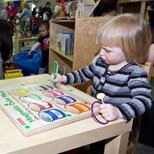 LEARNING EARLY & HAVING FUN
The kidlets were pleased that Edmonton Catholic Schools was able to port over real classrooms to the Fair! Our young visitors were able to experience first-hand the rich opportunities offered in Edmonton Catholic Schools pre-K/K classroom programs. Their staff was on hand getting hands on with the kids at their interactive centres and answering any questions from the parents. They also brought out Their Early Learning Mobile Unit (the EMU) for everyone to enjoy.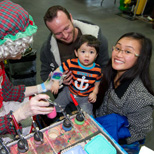 CHRISTMAS IN THE NEW YEAR WITH 630 CHED SANTAS ANONYMOUS
This is the second-consecutive year that we chose 630 CHED Santas Anonymous as the Mom, Pop & Tots Fair's 'Charity of Choice.' Successfully raising more than $2,350 in 2014, they also continued to provide fun, interactive activities for the family.
The kids got to visit with Mrs. Claus and get their faces painted, decorate gingerbread cookies, get messy and eat their art! Parents were able to bid on the silent auction and learn about opportunities to experience the spirit of giving throughout the year.
Thank you to everyone who supported the fantastic work that Santas Anonymous does year round to make sure all children experience a special Christmas day.
PETTING ZOO & PONY RIDES
This year, Thistle Hill Farm brought out a wild bunch of fuzzy friends for families to enjoy! Children and parents alike got to pat and chat with all the adorable goats, ducks, bunnies, and even a wallaby! Little cowboys and cowgirls also got to experience the thrill of going on pony rides with Thistle Hill's four-legged steeds!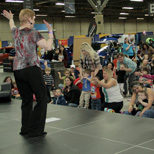 CREATIVE DANCE
Edmonton Catholic Schools knows that movement is essential to learning, so they presented an exciting creative dance session where young visitors and their parents could move creatively. Rachel Avery, Dance Specialist, and Ali Jones Jonzon, Adapted Physical Education Specialist, guided the little dancers through this super fun activity on the Main Stage. Everyone had so much fun moving and grooving!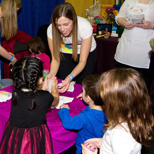 BANG ON THE DRUMS ALL DAY
Come join one of Edmonton Catholic Schools Early Learning Music Specialist/Occupational Therapist, Paul Bromley, on a journey to discover how sound and music is produced. Children will have the opportunity to interact with innovative musical instruments, and experiment with the relationships of pitch, length, and design. Catch Paul on the Main Stage!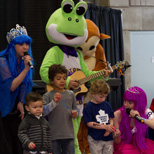 READY FOR A HOPPING GOOD TIME?
Our little visitors got the special treat of playing along and participating in a thrilling quest with Fergus the Superfrog! Princess Vi searched the kingdom high and low for a suitor as the children helped her overcome the obstacles standing between her and the handsome Superfrog. A beautiful fairy tale ending was enjoyed by all.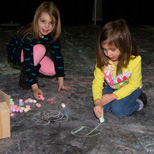 CHALK ART
What kid doesn't love getting their hands messy? This year, little artists got to unleash their inner creativity by getting down and dirty on the interactive chalk floor. The parents on the sidelines sure enjoyed the artistic rivalry – or maybe they just enjoyed taking a break from all the excitement!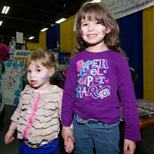 ABSOLUTELY 'WILD' FACE PAINTING!
No family event is ever complete without a little face art! The children got to embody their inner animals, superheroes, and other fantasies by choosing from a divine array of designs. The little ones loved roaming the show as jungle animals, fairies, flowers, superheroes, and more!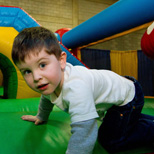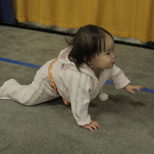 *all promotions subject to change without notice
**nominal fee will apply